Coming on November 18th is Jimi Hendrix Experience – Los Angeles Forum: April 26, 1969. The new archival set will be issued on double-LP vinyl and CD — as well as all digital platforms. The original concert featured such opening acts as Chicago Transit Authority –– soon-to-be renamed Chicago — and Cat Mother & The All Night Newsboys, who shared management with Hendrix. Floor seats cost $6.50 — that's $51.20 in 2022 dollars.
According to the announcement, Hendrix was quite vocal during the show telling the crowd before "Red House": "Everybody want to know what America's soul is; everybody think it's Motown . . . America's soul is something more like this here" and joking during "Purple Haze": "'Scuse me while I kiss that policeman!" Hendrix went on to dedicate "Spanish Castle Magic" to "the plain clothes police out there and other goofballs." Prior to "The Star Spangled Banner" Hendrix quipped: "Here's a song we was all brainwashed with."
Interestingly, the Experience opened the gig with "Tax Free" — an obscure 1967 instrumental tune by Swedish duo Hansson & Karlsson with whom Hendrix and the band had previously performed alongside in Stockholm.
The tracklist to Jimi Hendrix Experience – Los Angeles Forum: April 26, 1969 is:
Intro
"Tax Free"
"Foxey Lady"
"Red House"
"Spanish Castle Magic"
"Star Spangled Banner"
"Purple Haze"
"I Don't Live Today"
"Voodoo Child (Slight Return)"
"Sunshine Of Your Love"
"Voodoo Child (Slight Return)"
SOURCE: Press release
SIDE NOTES
Set for publication on November 15th is the new book JIMI by Jimi Hendrix's step-sister Janie Hendrix and John McDermott.
The new tome significantly expands on the authors' previously published titles, including An Illustrated Experience, and features "a new introduction by Janie Hendrix, extensive biographical texts, and a trove of lesser known and never-before-published photographs, personal memorabilia, lyrics, and more."
JIMI includes quotations by legendary musicians such as Paul McCartney, Ron Wood, Jeff Beck, Lenny Kravitz, Eric Clapton, Drake, Dave Grohl and others who have spoken about Hendrix's lasting influence.
CHECK IT OUT: The vinyl pack shot for Jimi Hendrix Experience – Los Angeles Forum: April 26, 1969: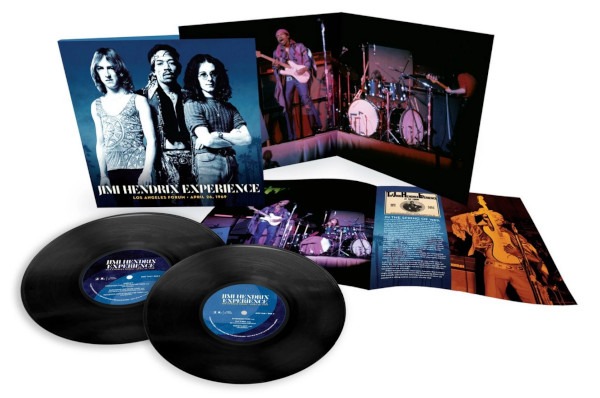 CHECK IT OUT: The Jimi Hendrix Experience in April 26th, 1969 performing "I Don't Live Today" live at the Los Angeles Forum: