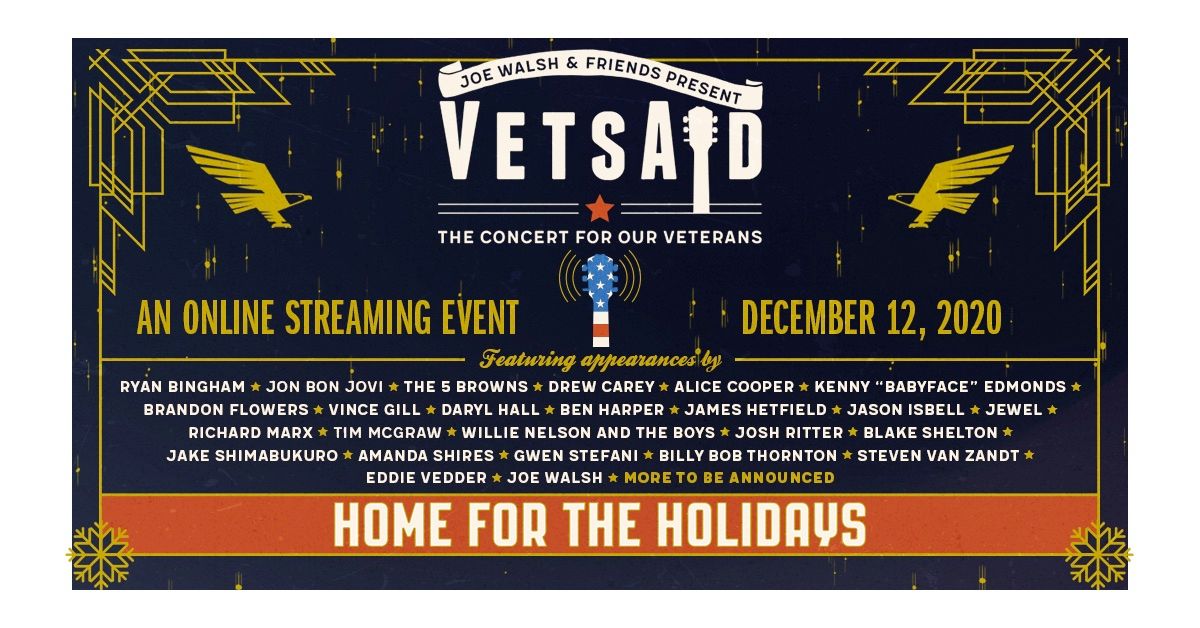 Joe Walsh's fourth annual VetsAid festival will stream online on Saturday (December 12th). Joining the legendary Eagles guitarist online for the event will be over 50 artists, including Eddie Vedder, Jon Bon Jovi, Daryl Hall, James Hetfield, Jimmy Buffett, Alice Cooper, Vince Gill, Willie Nelson, Blake Shelton, Steven Van Zandt, Brandon Flowers, Gwen Stefani, Billy Bob Thorton, Earth, Wind, & Fire's Verdine White, Jason Isbell, Ben Harper, Melissa Etheridge, Kenny "Babyface" Edmonds, Jewel, Rufus Wainwright, and Ben Harper, among others. The online event features never before seen performances from the past three live VetsAid concerts including songs by Ringo Starr, the Doobie Brothers, Don Henley, James Taylor, Haim, Keith Urban, Sheryl Crow, ZZ Top, and more.
Joe Walsh, who grew up in a Gold Star family, said in the event's press release, "For the past three years we've held this glorious traveling circus in cities across the country with a day-long rock and roll festival and jobs fair to support our veterans and their families. Typically, we fill up an arena, play for five hours, and raise a bunch of money — nearly $1.5 million to date — to help our veterans get the care and support they deserve. But because of COVID this year, we're going virtual as so many things are."
He went on to say, "Our veterans community already suffers from increased poverty rates, mental health issues, re-entry difficulties and personal crises in the best of times. During this pandemic they are especially vulnerable. I'm proud of this nationwide tradition we have built and I can't think of a better way to remember and honor the men and women who have served our country this holiday season than by helping us raise funds to support their essential and basic needs."
The ticketed event will be streamed on December 12th starting at 6 p.m. ET via vetsaid.veeps.com and will also be available for restream through December 14th.
Tickets and merch bundles are available now at vetsaid.veeps.com and will be priced from $20 with discounts available for active duty military and veterans using the promo code "VALOR."
SIDE NOTES
In addition to the nearly 7,000 American Military Casualties of War from the wars in the Middle East since 2001, there are nearly 51,000 who made it home wounded. Returning veterans have a 50 percent higher suicide rate than other civilians.
In 2016, Joe Walsh contributed an original song, "No Man's Land" to the documentary, Citizen Soldier, which chronicles a Oklahoma National Guard unit which was called up to active duty and fought in Afghanistan.
FAST FACTS
In March 2019, Joe Walsh's charity, VetsAid, announced the disbursement of $795,000 in grants to veterans services organizations with money raised from their second annual concert event.
Walsh launched his national 501(c)3 non-profit veterans organization on September 20th, 2017 with an inaugural concert at Fairfax, Virginia's EagleBank Arena.
The 2017 VetsAid concert was an immediate success leading to the disbursement of $360,000 in grants.