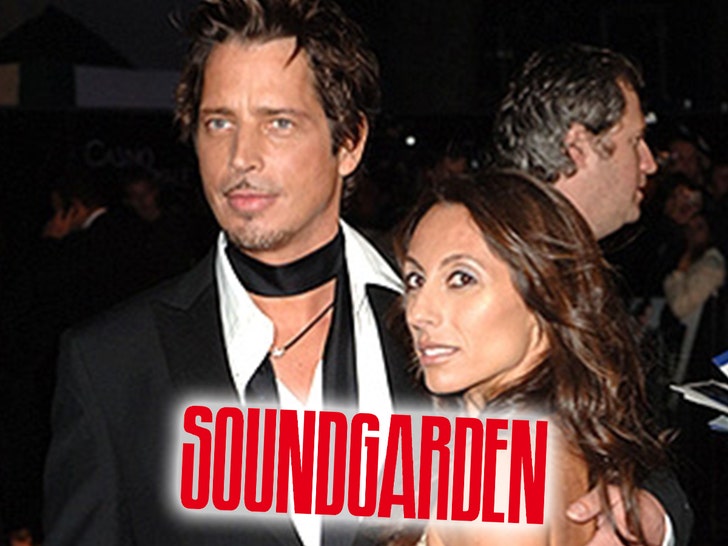 Chris Cornell's widow, Vicky Cornell, has filed a lawsuit against Soundgarden because she and the band's remaining three members can't reach an agreement over a buyout price. TMZ reports the band has offered her $300k for Chris' share, however Vicky claims that amount is less than she received for her share of just the 2018 royalties for Soundgarden's masters.
Vicky also claims the offer is unfair in light of the $16 million offer made by an outside investor for Soundgarden's masters. The lawsuit asks the court to value the band's assets.
A Soundgarden spokesperson told TMZ, "As requested by the Estate of Chris Cornell and as required by the laws of the State of Washington, the surviving members of Soundgarden submitted to the Cornell Estate four months ago a buy-out offer of the Estate's interests in Soundgarden calculated by respected music industry valuation expert Gary Cohen. Since then, the band members have continued to try to settle all disputes with the Cornell Estate and in their several attempts to settle, the band members have elected to offer multiple times more than the amount calculated by Cohen. This dispute has never been about money for the band. This is their life's work and their legacy."
Vicky previously sued Soundgarden in 2019 over royalties and the rights to seven unreleased recordings.
FAST FACTS
Vicky recently confirmed there is a second volume of covers recorded by Chris that will be released. The first volume of No One Sings Like You Anymore was released late last year.
The physical version of the first volume will be released on March 19th. It was originally released for streaming only back in December.
INTERNET COMMENTS @twitter: AGREE OR DISAGREE?
@michelereseigh writes, "They should counter sue her for wrongful death. She pushed him over the edge and didnt do anything to get him the help he needed. And she needs to stop being a gold digger. Write your own songs. Earn it yourself!"

@Lisasmithparker writes, "She must be running out of money.."

@Stefvixen writes, "For someone who says it's not about the money, it sure is about the money. #greedy"

@eilishgrace writes, "She probably can't even name five Soundgarden songs but thinks their money is hers because she was married to Chris?It's always been about the money with her and it's disgusting!!!!"